A New Kind of Mountain Bike Retreat
Join SHREDLY and Momentum Mountain Biking for a wonderful weekend of learning, growing, and connecting with other riders like you!
September 29 - October 2, 2022
Park City, Utah

SHREDLY + Momentum Mountain Biking Women's Mountain Bike Retreat

September 29 - October 2, 2022 | Park City, Utah
Join SHREDLY and Momentum Mountain Biking for four days of learning, growing, and forging friendships surrounded by some of the most beautiful scenery in the country.
What makes this retreat special? Think three days of guided instructional mountain bike rides through golden fall aspen leaves and conifer forests with thoughtful MTB festival vibes sprinkled throughout.
Event exclusives will be waiting for you around every corner that include product goodies, private access to the newest gear from SHREDLY, creative off-bike sessions you won't want to miss (did someone say tie-dye?) that will light your fire and make this your best year of MTB yet.
All skill levels welcome!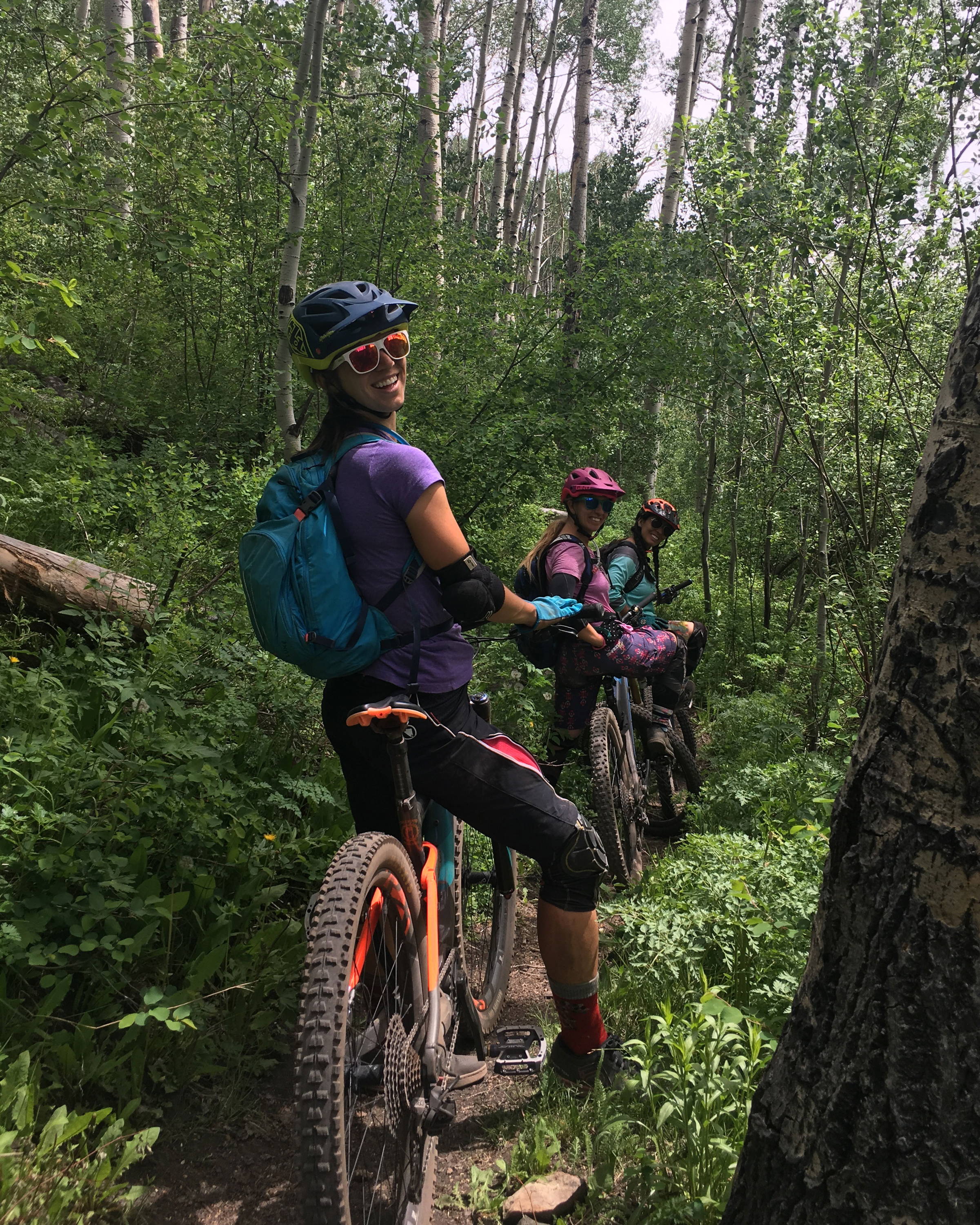 All Skill Levels Welcome (Beginner to Advanced)
We'll kick off the retreat with a meet and greet Thursday evening, followed by three days of yoga, mountain biking through breathtaking scenery with Momentum Mountain Biking elite instructors, optional massages in the afternoon, and delightful evening activities each night.
This retreat is truly all levels, suitable for everyone from beginner riders to long-time shredders. We'll split up into small riding groups sorted by skill level to ensure that everyone has just the right amount of challenge and the most fun possible.
Retreat Schedule + What's Included
While a final and more detailed retreat schedule is distributed to registered participants, below provides a general view of what you can expect.
Day 1
Please plan on checking in to the Park City Peaks Hotel on Thursday (9/29) and joining us for a meet & greet between 4:30 to 7:00 PM. Meet & greet will include goodie bag pickup, group information, introductions, socializing, tie-dye, and hot tea or hot toddies.
Days 2 & 3
Breakfast
Yoga
Trail rides & skill development
Lunch
More riding & more skills
Return to our accommodations, unload, change, etc.
Massage (optional add-on)
Afternoon/evening activities & shopping
Transportation to and from dinner
Day 4
Breakfast
Yoga
Group photo
Accommodations check out
Trail rides & lunch
Early afternoon wrap up and goodbyes
Optional add-on: additional night with our accommodations provider
What's included:
Thursday evening meet & greet and activities
Three mornings of yoga
Three days of instructional rides
Three days with breakfast and lunch included
Three nights shared accommodations with a private room upgrade option
Trail snacks and goodie bags
Transportation to rides and dinner
SHREDLY insider sneak peek and exclusive shopping opportunities
Post-ride activities
Optional add-ons:
Single-occupancy room supplement
Discounted room rate for an additional night stay for Sunday night
Post-ride massage
What is not included:
Dinner is not included in the retreat price, but we will have group reservations at wonderful local restaurants on Friday and Saturday night and will provide transportation to and from dinner where participants can place individual orders.
Mountain bike and helmet. We don't have bikes, but you can rent a bike from one of the awesome bike shops in town, JANS or Marty's.
Transportation to/from our accommodations for participants or bikes before and after the retreat. If you are having trouble or need help arranging transportation for yourself or your bike, please let us know and we'll see if we can help.
Below is a list of items we highly suggest you bring with you on your retreat experience. Can't find these items where you live? No worries, you will definitely be able to pick them up once you arrive in town. We do ask you have these items already, when you show up for your activity.
PACKING LIST
1. Mountain Bike & Helmet
Please make certain your bike is in good mechanical condition. If you aren't sure, we recommend having it tuned by your favorite mechanic so it is in top form. There are also high-quality demo bikes available for rent in all of our locations.
Note: If renting a bike and you use clipless pedals (meaning you ride clipped in), please bring your pedals and shoes.

Note: At this time we can only accommodate electric mountain bikes in our private offerings.
2. Hydration Pack & Snacks
You will want plenty of water. Please come with a hydration pack or backpack filled & ready to consume before each ride. Bringing a water bottle with an electrolyte drink mix can also be nice.
Bring any snacks you may want in your pack for on the trail.
3. Tools for a Flat
Spare Tube. Please bring a spare tube that fits your bike's tire size. Flats happen! Don't worry if you've never changed a flat – we'll teach you!
Tools. Our instructors carry tools for minor trailside repairs, but we strongly recommend that you own and bring your own trailside repair kit. At a minimum, this kit should include a pump, tire levers, and a multi-tool. These items will come with a rental bike. Let us know if you'd like help with suggestions on what else to include in your kit!
4. Flat Pedals
For off-trail skills and drills, it can be helpful to ride with flat pedals (skate shoes, or similar, work well with flat pedals). Bring your clipless pedals too if you are used to riding in them. Make sure you have two separate pairs of shoes – the ones that go with your clipless pedals and the ones that go with your flat pedals.
5. Appropriate Clothing
Our area is fortunate to receive all kinds of weather! From wet and cold to very hot and very dry. Because of this we ask our cyclists be packed and prepared for any weather. So yes, please pack the rain jacket even if it doesn't look like rain.
6. Riding Gloves, Leg and Arm pads
We ask everyone to arrive with bike gloves.
Armor (Leg & Arm Pads) are optional but can be nice for protection and confidence building. Armor may also be available for rent from some of the bike shops in town. Shoot us an email if you'd like to know what shops to try.
7. Sunscreen and Sunglasses
We're all about that sun-protection life and keeping our eyes safe.
8. Adjustable Seat Post 
Though not required, we do recommend them for increased safety and fun.
9. Gratuity
Tipping your coach is greatly appreciated. We kindly ask you be prepared to do so after your activity.
10. Bring Your Stoke
Because we are about to have a heck of a time on the trail! It's going to be awesome. 🚵
Arrival: Please plan on checking in to the Park City Peaks Hotel on Thursday (9/29) and joining us for a meet & greet between 4:30 to 7:00 PM.


Departure: Participants who did not book an additional night's stay Sunday night will check out Sunday morning before we head out on rides. Rides will end between 2-3 PM Sunday afternoon, and transportation will be provided back to the hotel for participants to check out.


Cancellation policy: 100% refundable up to one month in advance, 50% refundable up to three weeks in advance, fully transferrable to a friend up to three days in advance.


Trip insurance: We strongly recommend that participants consider purchasing trip cancellation insurance and we have partnered with IMG Insurance, a travel insurance provider. Click Here to learn more about their travel insurance options. If you purchase insurance with them, please use our producer code: 542425
$1,495/participant
Dates: September 29 – October 2, 2022 | Park City, UT
Open to all women, trans and cis, as well as non-binary people who feel like this would be the best space for them to learn and have fun.
---